For those seeking an adult breastfeeding or adult nursing relationship (ABF/ ANR), this is the perfect place to find your partner. Register today for FREE and you can browse members' Profile Pages, reply to Personal Ads (and place your own), send Private Messages to other members, and use our LIVE chatroom.
These lovely members have donated
to ABFheaven - Thankyou!
jesse

LatchOn

  Jay  

Grogman

Please consider making a donation,
your help would be really appreciated.
RECENT PUZZLES & VIDEOS
FOR THE LADIES! Wonder if this ABFheaven guy built his great body with nature's perfect nutrition? …. breastmilk! 😊
2 comments
FEATURED FORUM POST
First few drops of milk- help!
By erica
Hey everyone! I just started lactating two days ago! Little backstory- I've been into abf for several years now, my ex used to dry suckle me constantly, but every time I tried to successfully induce lactation, I hit a hormonal wall…

Read the full article here
FEATURED BLOG POST
Tales from ABFheaven –
How I Met My Woman
An ABFheaven member relates how he
met his lady here on ABFheaven.com
I started my journey into what I know now as ANR in my late twenties. I've been lucky enough to have it in small doses in my few relationships. But nothing ever that was a true ANR. I think they did it for me. I really wanted mutual satisfaction, that feeling of bonding and being nurtured for both of us. I've talked to quite a few potential partners, met a few, had a few cancel last minute, and tried with a few. But I never felt a connection that stuck. Yes I got enjoyment, but I wanted that "connection"….

Read the full article here
FEATURED FORUM POST
Memories of the first time…
By James Donald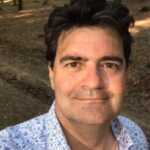 Now I'm not going to write some kind of male fantasy but just the experience of the birth of my first ANR.
We had been together a shade over 5 weeks, and we both had a pretty high sex drive. There was a lot of desire between us. I have a playful nature and tend to lead so we had strayed from the vanilla into a little exploration and discovery…

Read the full article here
FEATURED BLOG POST
"The Summoning"
-Daddy's Girl part 2-
Audio-story read by Miss Rosie
Sir, I really adore the gorgeous way you like me to call you, to summon you, when I need my milking. I come fresh from the shower and once dried I sit on the edge of the bed. My huge breasts are gloriously full and heavy, aching ever so slightly for your attention. And as you have requested, I take from the bedside cabinet the gift you brought for me on the very first day I became your milkmaid…

Listen to the story here
FEATURED BLOG POST
ABFheaven t-shirts
by Michael Admin
ABFheaven t-shirts? Yes, coming soon! Details here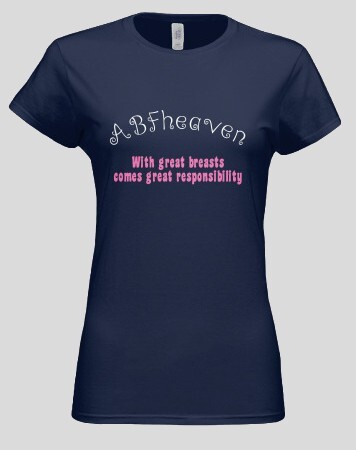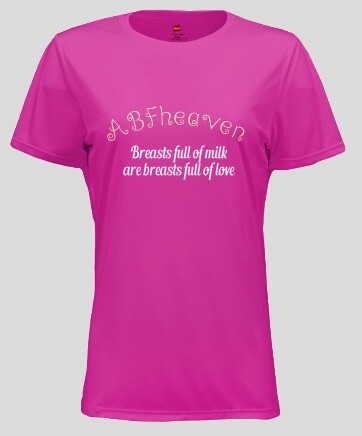 FEATURED BLOG POST
"Daddy's Girl"
Audio-story read by Miss Rosie
For Sir's pleasure, she loves to wear the blouse with the buttons straining over the beautiful swell of her breasts. A tight, white cotton blouse barely able to contain her milk-laden udders. And a long skirt, no panties, as he has commanded.
She sits in his lap, astride him. Tells him how heavy those udders feel and how the teats are aching for his attention, aching for the unique relief she experiences only when Sir's lips and tongue are wrapped around them, suckling hard. "Now open that tight blouse, my girl", he says…

Listen to the story here
FEATURED BLOG POST
Discovery
By Joan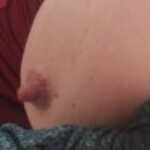 The urge to be suckled is difficult to articulate. Even now, as I stare at this blank computer screen trying to put "that feeling" into something coherent and meaningful that has led me to where I am today.
Even before I knew what "it" was; before I knew there was a name for it, I had always enjoyed being dry suckled and nursed by my husband. It became part of our pillow talk and role play, the quiet sexy talk whispered in a lover's ear. I liked the sensation of his mouth on my breast hungry for something it no longer provided. I loved the sense of calm it seemed to give him…and to me. His whole body would relax, I could hear the internal sighs of comfort. I would wrap him up and provide that bit of comfort sometimes as a prelude to lovemaking or sometimes as a lull to sleep. His suckling felt different than typical breast foreplay I had experienced. It was deep and soulful, it had purpose and intent. Our sessions went in fits and starts depending on the voracity of life's events but over time, the pillow talk evolved, and desires were shared. I wanted to nourish him. He wanted to be nourished, but I am what they call a "mature woman", past the age of making babies. I felt I had an expiration date for such things and mine was way past.

Read the full article here