Don't be a sucker!
Hi Everyone!
Hope you enjoy our new resource blog. Please add any additional insight in the comments.
Suckling, proper latch and techniques are commonly asked questions, as a woman I can offer some technical guidance, however please read the end of this post addressing the milkshake method for wonderful and easily relatable advice from a gentleman.
That being said I can share these simple tips.
Please take the time to get to know the woman behind the breasts. Women need to feel safe and be able to trust the gentleman she is with to relax and have a mutually beneficial experience.
Please be clean, take a minute to wash your hands, clean clothes, fresh breath.
#1: Stay off the nipple! Nipples are very sensitive and while licking and kissing can be fun, enjoyable and stimulating DO NOT SUCK ON JUST THE NIPPLE! It is very painful and will make the nipples very sore, raw and can cause them to crack and bleed.
What does it mean to latch? The act of latching is when you have drawn the nipple and areola into the mouth, have compressed it with your tongue and then pulled the tongue back down. At that point you have completed compression and have established vacuum. You are now latched on with lips sealed around the breast. To test if you are properly latched you should not be able to gently pull the breast from your mouth. When a baby has latched on and you need to remove them from your breast you have to stick your finger into the side of their mouth to break the seal to remove your nipple. This technique of latching is very powerful and effective.
What is the difference between sucking and suckling?
When latching on to begin to suckle make sure to take the areola into your mouth deeply enough that the nipple is at the end of the hard pallet, beginning of the soft pallet. If you run your tongue along the roof of your mouth back towards your throat, you will be able to feel where the roof of your mouth goes soft. This is where you want the nipple to be. Suckling is not sucking. You do not want to suck on a breast like a straw. Suckling is about compression and vacuum. The anatomy of the breast makes it easier to understand why there is a difference, you cannot suck on a breast to remove and stimulate milk flow. The milk is in the glands behind and beyond the Areola and needs to be compressed to send the milk from the glands down the ducts and to the nipple. This is also why gentle massage of the breast is helpful in releasing the milk.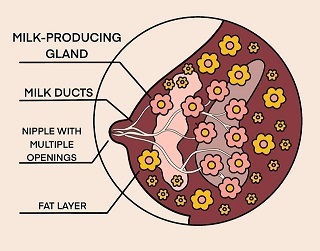 The tissue of a woman's nipple and areola is fragile and can easily be damaged if treated roughly. If this tissue becomes inflamed then it is difficult to get the milk from the breast. Be gentle and avoid sucking on the nipple and areola.
When a woman's nipples are stimulated the signal is sent to the pituitary glad to produce the hormone prolactin. Prolactin is needed to produce milk. The more prolactin the more milk. Once milk has been produced and is present coming from the nipple then milk supply becomes a direct result of supply and demand. Women's breasts need to be emptied so they can be refilled and the flow of milk is vital for breast health. If the breasts do not get emptied properly then they can develop blockages in the glands or the ducts. If this is not resolved they can develop mastitis which is an inflammation that can develop into an infection or abscess.
While suckling please check in to see if you need to adjust how strong your vacuum is while you are suckling. Strength is adjusted by how far down you pull your tongue from the roof of your mouth. This can vary breast to breast and even session to session.
A woman will experience letdown of her milk when she is aroused mentally or physically being suckled. This is caused by a release of the hormone oxytocin. Oxytocin causes the smooth muscles around the milk glands of the breast to contract and move milk down into the ducts. This occurs in both breasts simultaneously and if there is enough milk it may begin to leak from the breasts. If suckling when letdown occurs you may get a rush of milk and the opposite breast may begin to leak milk. Letdown can occur multiple times during a suckling session.
Nipple butter is essential especially in the beginning, I prefer organic, please review ingredient list for possible allergens, it is most important to prevent the nipples from becoming dry, sore and cracking. Please choose a product that is lanolin free to prevent ducks from becoming blocked, apply after suckling.
#2: Check in frequently with your partner. If either of you are not comfortable you will not be relaxed and will not have the best experience possible. Do you need more or less pillows, are you too warm or too cold, do you need to trade sides? Are you wearing comfortable clothing? If a woman is lactating her milk will not let down effectively if she is not able to be relaxed.
#3: Remember to touch each other. This is about building and growing relationships. Breasts love to be touched. The breast you are suckling at will be able to release more milk and gentle massage will aid in completely emptying the breast. While you suckle at one breast you can also gently touch and stroke the other breast. Even just holding the other breast provides warmth and stimulation that is beneficial. Men also enjoy being touched; you can rub their shoulder, neck and upper back. Trial and error will help you find what works for the other person.
I had heard of a milkshake method and was intrigued. After searching the Forum I found this post and have placed a link to the forum post and copied the main text here for easy reference.
Thanks Grogman, your contribution will benefit mankind, and make a bunch of women happy as well.
I learned to suckle versus suck with the "milkshake method".
Get a milkshake and take a drink. You sucked on the straw, right?
Now, take that same straw and put it back into your mouth and still keep it in the milkshake.
Using your tongue, press the straw against the roof of your mouth and release. Do this repeatedly and you will be pumping a little bit of milkshake on each tongue press. Don't suck through the straw. Just keep your lips around it.
This helps train your tongue. It worked for me. I occasionally still practice this technique.
When suckling, I draw as much areola into my mouth as possible. With the nipple deep inside my tongue presses up squeezing the nipple against the roof of my mouth. Maintain a seal with your lips to her breast. Press and… release. Press and… release. If milky, swallow between presses.
Wet or dry suckling this is the method I use. Have fun!
Another good link to show anatomy of the breast and how an infant latches is below. The same fundamental principles apply to adults for a proper latch.
Thanks for sharing Ethereal Skies
https://www.youtube.com/watch?v=DQj-Mn0c370&list=PLwDqfKDXInXjl2qVMume0KsaKdQxhmA9B
I look forward to your comments.
Please leave any suggestions for future topics
Love you all,
NB
Game on!!!