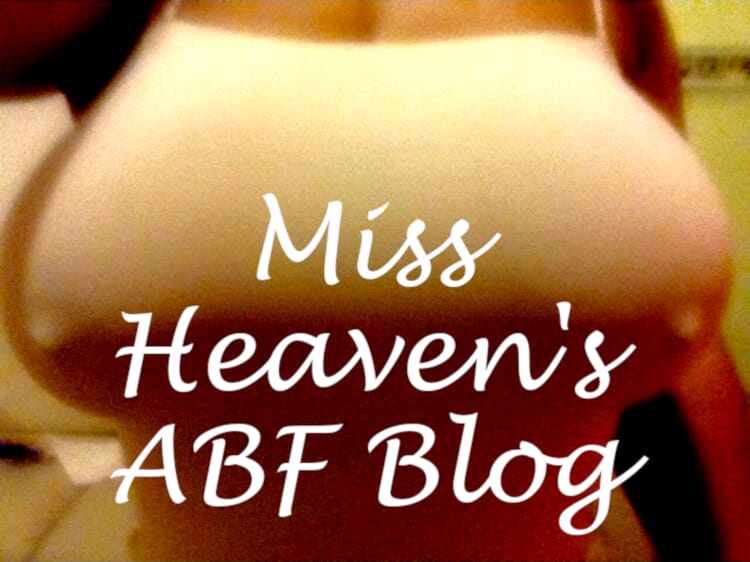 Hi everyone! I'm Miss Heaven and over the coming weeks I'll be posting here about all aspects of Adult Breastfeeding : from lifestyle & health tips, to erotic stories & breastfeeding advice, plus maybe some nice surprises. Updates coming every few days (my regular pumping schedule keeps me quite busy as it is!?)
– – – – – – – – – –

A beautiful story of a life-long breastfeeding couple:
Smitten

My wife and I are in our sixties and have been married 40 plus years. Before I met her, and not having had a serious girlfriend, and just like most teenage boys, I thought for sure the lower half of a woman was interesting but breasts were mesmerizing, hypnotizing. The first time that I saw my future wife's breasts was when we were teenagers. It has been a lasting image that has tethered me to her all of these years; something that we reminisce about. We were searching for a place to be alone for the first time, as I drove us down a narrow lane surrounding a cornfield (There are lots of cornfields in Illinois) and stopped at the secluded far end. As we exited the car our eyes met and I felt her nervous excitement rippling into mine as though our gazes were emitting erotic molecules that danced across the distance between our trembling bodies.The grass was green and soft where we sat, the mature cornstalks concealing, and the late afternoon sunshine seemed to soothe our jitters. She stretched and laid on her back, her gaze calling to me. Not being experienced at this sort of thing, I had some difficulty raising her dress and unhooking her bra. Then as I exposed her breasts with an enticing jiggle… (Read the full story here)
What a lovely way to live your life, breastfeeding your devoted man for many, many years.
Comments & questions on this article can be left in the FORUM and I will reply here on my blog. Thanks for reading! ?
– – – – – – – – – –
27 Apr 2020
Warm milk straight from the….. mug?
by Miss Heaven

This made me laugh!


Maybe I should get my own Miss Heaven boob mugs made? Only with much bigger areolas to match my own ? I could sign each one personally! Hands up, who wants one?

Comments & questions on this article can be left in the FORUM and I will reply here on my blog. Thanks for reading! ?
– – – – – – – – – –

I received this nice message from a man who's had recent success here on the site:
Miss Heaven, you asked how I met my partner? Well, I placed a Personal Ad on abfheaven.

Although it can be a lot of work to find the right ABF partner, and that can include a lot of strike outs before scoring a home run, it's worth it when you finally meet the person you've been looking for. I started with a list of "must haves". She would be consistent with communication and serious about meeting in real life/no "ghosting".

She would be seeking a real long term relationship that included ABF instead of trying to scam financial compensation or gifts. And there would be a natural connection that flowed effortlessly without either of us having to carry the conversations or feeling awkward, whether we were talking online or in person.

After talking with and meeting several potential ABF partners that weren't a good fit, I received a message from an outgoing and very attractive woman who was busty and already lactating with long black hair, pale vanilla complexioned skin, naturally light green eyes that were the most exotic color I'd ever seen, and a body that was truly a work of art.

We began chatting through messages on the site, then on an instant messaging app, then moved to phone conversations which would sometimes be as long as 1-2 hours. She was a great flirt and between all her compliments and her stunning good looks, I was wondering if she was too good to be true. But I was curious enough to meet her and excited to connect in person.

She lived several states away but asked if it would be ok for her to travel to come see me and us spend a few days enjoying suckling sessions and having more conversations in person. I accepted her offer. And when we met, there was an instant connection. In fact, there was such a strong mutual attraction that we decided to start dating and she's planning to relocate here. I'd call that a success story.

And it wouldn't have been possible without the site. So thanks for introducing me to the woman of my dreams.
Wonderful, I'm so very pleased for you both! Please keep us updated.
Comments & questions on this article can be left in the FORUM and I will reply here on my blog. Thanks for reading! ?
– – – – – – – – – –
22 Apr 2020
Things NOT to say to new ABF partner!
by Miss Heaven
Here's my Top Ten list of things NOT to say to your new ABF partner …..ENJOY!
?!?!?!?

1) HE: Just remind me again – do I suck or chew?
2) SHE: Do you mind if I wind you afterwards?
3)

HE

: I'm actually a vegan, so technically I'm not allowed to swallow.
4) SHE: I love it when you suckle – it's the only time I get a break from your constant talking.
5) HE: Yes I take hygiene very seriously – I take a shower every week without fail, whether I need one or not.
6) SHE: But you knew I'm an exhibitionist – I didn't think my friends watching would bother you!
7)

HE

: I'm a little shy at first – is it OK if I keep my motorcycle helmet on?
8) SHE: Just so you know, in my culture suckling counts as a marriage proposal.
9) HE: OK, maybe I should have told you about my lactose intolerance before we met.
10)

SHE

: Well when you said you were a little overweight, I didn't think your boobs would be bigger than MINE!
Comments & questions on this article can be left in the FORUM and I will reply here on my blog. Thanks for reading! ?
– – – – – – – – – –

This wonderful original story has been written exclusively for us by a female ABF fan, she calls herself "VelveteenRabbit".

Please show her your love & appreciation in the comments, she says she just might have a few more naughty tales to share if we like this one.

? Enjoy! ?
– – – – – – – –


Afternoon Delight
by VelveteenRabbit

Grace walked into the office yawning widely, it was a Sunday and far too early. But she had a meeting due and some free time after before she met Eric for lunch. It was a month now since she had found out about ABF and ANR through Zoe, her friend who was in a long term anr with her fiancée. She had been massaging, pumping and using a TENS machine on and off the whole time. She had noticed her breasts had grown slightly larger, her areolas bigger but still a pale pink and her glands much more noticeable. She had come to enjoy time at home when she could go without a bra and just relax when using her tens or pump. Working it all around her job was tough but she wore her TENS discreetly most days. She had been caught once, by Eric, a tall Norwegian from one of their overseas branches, he was here for just a month. He had walked into her office and saw her adjusting the TENS pads beneath her bra. She had thought the door had been locked. He stood surprised before a knowing look flashed through his eyes and he apologized and walked out. Grace had been utterly beside herself and when she finally approached him in the coffee area she was shaking like a leaf. He had merely smiled politely and quietly explained he had an ex who had been into abf if that is what he had witnessed. He also said he would not say a thing to anyone and keep it private. Grace had admitted it was and she had been over the moon with his kind manners and she found him incredibly attractive. He had noticed her blushing and also said he would be happy to grab coffee with her sometime to talk more if she wanted to. Grace readily agreed and they set it up for the coming Sunday.

Which was today, after her meeting. She had been daydreaming about Erik's huge hands, kind green eyes and chiselled physique. She was extremely self-conscious of her size 18 curves, her large thighs and little tummy. Working around lots of tiny size zero women had made her even more conscious and she was unused to such blatant interest from a man. She knew that it would be a fling at most, if anything happened at all. As he left back to Norway in a month and she still had her longstanding crush on the handsome Korean guy from head office. But she was still excited. The meeting went well, and she changed afterwards into jeans and a summery blouse. Erik had said he would meet her in the café on the buildings first floor, sure to be quiet on a Sunday, it had a nice atmosphere and was always decorated with beautiful plants and flowers. The garden room as it was called, was dead when she arrived, one other couple near the door. They sat in a booth at the back, Erik dressed in jeans and a shirt that clung to his strong chest. His blonde hair fell in messy waves over one eye to just below his neck. One of the girls in the office had jokingly taken to calling him the Viking and it was clear to see why.

They chatted and he told Grace how he had helped his ex-girlfriend induce, they had suckled for most of their relationship before she chose to move overseas for a new job, and they had an amicable breakup. He said pretty much what she had already thought. That he wasn't looking for anything serious but would be more than happy to suckle if she wanted. They got along well and laughed about the coincidence of him seeing her with her tens machine on. She felt shockingly comfortable with him, a rarity as she usually took quite awhile to warm up to people. When he shared that he had often suckled from his ex at work in the storage room a low simmer of desire settled inside her. She lost sense of where she was for a second and imagined that he was suckling her in her office. When she came back to reality he was smirking, insisting he know what she just imagined. She told him with a bright blush, and he chuckled in his warm deep voice. Then he leaned over and asked if she wanted to go do it, the office was quiet, and they likely wouldn't be disturbed. Grace threw her usual reserve to one side and nodded shyly.

They were soon back in her office, door shut and definitely locked, sun streamed through the window wall and the door blinds were closed tight. They were one the twenty fifth floor and the only view was the city out in front of her desk. She sat nervously on the sofa until Erik sat beside her and confidently but gently pulled her into a soft kiss. They had talked through what was ok and what she may want to try and any limits. His lips were plush and hot, as he nipped at her bottom lip and pulled her into a filthy deep kiss, his tongue plundering her mouth. She was soon on her back, his weight over her as they made out. When they were both flushed and panting, they pulled away, he stripped off his shirt and she hers, he gently stroked her body and opened her bra as she sat up. She sat upright and he scooted his head onto her lap, stroking her breasts and telling her how beautiful she was. Grace felt her breasts tingling, now so used to her stroking them before she pumped or massaged. When his lips first touched her nipple, she had a full body shiver, I had been over a year since she had been with anyone, so the simple touch alone made her shiver with delight. He made sure she was warm enough, then stroked, massaged and gently kissed around her breasts and nipples. Helping her settle and relax, she was soon boneless, sat slumped on the sofa with his head on her lap. She was so relaxed her body consciousness was no longer an issue.

She felt him gently suck and then latch on to her left nipple. Her first feeling was bliss, this was what she had imagined for a long time now. She had worried it would be awkward or strange allowing a stranger to do this, but it felt right. It was an add sensation, akin to her pump but with warmth and a wet tongue. It made it so much more intense than she had expected and as she got used to it and he settled into a rhythm she moaned. Tingles of pleasure ran throughout her breasts and all through her body. She stroked his soft, clean hair as he suckled, occasionally looking at her with those deep green eyes filled with longing and pleasure. She could imagine what it would be like to have warm milk rise to his lips and know she was giving him such a gift. Erik switched nipples after a while and she moaned again, the flood of sensation at her other breast also. There was such a feeling of deep bliss and comfort as his mouth suckled her deeply, his hands massaging and the sun warming them through the window. He had said he could suckle for hours and now she had felt the bliss she was keen to let him. They were so much in their own world, the soft sound of suckling, sighs and gentle moans that they didn't notice the background noise at first.

It was then that the sound of talking flooded the open office area just outside Grace's office. A meeting by the sound of it, but she was in so much bliss she just held Erik's head back to her breast and he continued to suckle hungrily. It made her vagina ache, both the pleasure of being suckled and the idea that just through that door were a load of executives who had no idea there was a man suckling her. She unknowingly started to quietly moan more as the deep suckling just flooded her body with yet more pleasure. She felt so light, all her stress gone, and the suckling wet noises made her clench her thighs together. Some time later Erik sat up. She sat there looking at him as he stood, sunlight across his cut chest and a satisfied look in his face. She was so wet she was almost scared to stand, but he pulled her up and they kissed as he pushed her near her desk. She would have been happy for him to fuck her, but they had no condom and were so eager that he said he had an idea. She slipped out her jeans and into her silky leggings she kept in her office. He bent her over the desk, she looked up at him in anticipation. She had taken off her panties, so the seam of the leggings teased her clit. He leaned his weight over her and started to dry hump her, she could feel his hard cock in his jeans, and she moaned before he leaned over and covered her mouth. His thrusts were hard, and he leaned over to suckle on her nipples heightening the sensation. He opened his jeans and pulled out his cock, hard, larger than she had seen before and already wet. Then he slotted it between her legs, moaning at the silkiness of her leggings and rutted against her, the pressure against her clit delicious. She was so full of tingling pleasure her eyes were only half open, the sound of the executives outside made her hotter. He thrust two fingers into her mouth, and she sucked them whilst she drooled with pleasure, her breasts tingling. She came hard and slumped over the desk as he continued thrusting against her now oversensitive vagina. She drooled on the desk and he moaned at the sight of her as he thrust, yanking down her trousers he came all over her tummy. After cleaning her up he lifted her onto the sofa and asked if he could use his mouth. He licked, kissed and sucked through the leggings at first, making her writhe around and need to cry out. Then he pulled them down and showed her he was as talented with his mouth on her clit as he was on her nipples. She came hard for a second time, her mind whiting out for a moment as she gasped. He was a real gentleman and helped her clean up and fetched her a glass of water as they cooled down watching the city, her curled up in his strong arms and already anticipating him suckling her again.
Comments & questions on this article can be left in the FORUM and I will reply here on my blog. Thanks for reading! ?
– – – – – – – – – –

It's the weekend, let's have some fun!
Celebrity males
who might be secret ANR fans?
Here's my list of top suspects …..
Brad Pitt – loves intimacy and nurturing
Quentin Tarantino – open minded, diverse taste. From a curvy big breasted black woman to a very small breasted slender blond. All boobs and all sizes
Jonathan Ross (UK TV star) – loves his wife's boobs
Johnny Depp – ageless – good skin, partly due to regular feeding no doubt
Ben Affleck – known breast addict
Boris Johnson – might help him now he's recovering from the virus, poor man!
And now, those I'd love to feed ? …..
Brad Pitt
Henry Cavill
Idris Elba
Over to you, now : who are your secret suspects?
And guys – who do you DREAM of being nursed by?
Comments & questions on this article can be left in the FORUM and I will reply here on my blog. Thanks for reading! ?
– – – – – – – – – –

Hi everyone! I am truly excited to be reaching out to you all and hope to make our global network one big milky community ☺️ with my Miss Heaven blog.

Allow me to introduce myself – Miss Heaven here, a nurturing woman of colour, born & raised in London, who will be your guide to all things ABR. I may have my own preferences but this blog is about sharing our experiences, our desires and bonding freely and without judgement but will probably include a few jokes and laughs!

PLEASE tell me in the Forum comments section what you'd like me to write about – your stories, ideas, and yes! even your fantasies! are all welcome! I can't feed you in person, but I'd love to feed your imagination.

Shall I go first? Very well, here's the true tale of one of my first ABF experiences…..

I used to work in the heart of the city – financial hub of the capital, in a very demanding job with long hours with a team that were a straight cut between Wall Street and The Office.

Anyhow, single, young lady looking for keen investors – aka people with more money than they knew what to do with! Anyhow I believed in our corporate portfolio of investments and the potential returns for my clients hence that mindset helped me to attain business.
I started to source businesses and independent financial advisors (IFA) that had their own catalogue of clients.

Had an extensive conversation via telephone with an IFA located in Westminster. We exchanged emails and documents before we arranged to meet at his office.
I know that first impressions are always the lasting ones in business and I always dressed professionally and I liked my hair and makeup to be impeccable. Now I don't care so much ?

Wearing a silk blouse tucked into a pencil fitted skirt hugging my slight hip curves and firm derriere – I am feeling confident. Simple short pearls that fall into my well moisturised cleavage. Shirt buttoned up, just to give you a slight glimpse of my huge bosom that is the most prominent part of my body. I am wearing little make up and pout when I put my lipstick on my full lips and pose a warm smile – knowing he will not stand a chance.
Wearing patent high heels and skin colour tights that turn heads when I get out of the taxi and enter the building to walk over to the receptionist.

I notice the other company names in this shared building as I take the lift (elevator) to the second top floor. I knock the door and his voice behind the door asks me to "please come in" and when I enter and extend my hand to shake his as he stands up from his desk, he shakes it and says nothing but is just staring. He indicates for me to sit down opposite him.

The first 15 minutes – I do all the talking. This was not the same character I was talking to on the phone for the past month. So talkative and engaging. Admittedly after 5 minutes I knew his clients would be mine. This man, in his 50's of medium stature seemed to be shrinking. He actually looked quite small now.

He then decided to gave me compliments and started asking me personal questions. My age, where I lived, whether I believed in marriage. All I wanted was some water after talking so much ?
So I simply asked for some – water that is! He leaves to get some water and I stay seated as my eyes observe and look around his office, which had so many folders and files and I notice a small neat stack of Hebrew books.

When he returns he hands me a glass of water. I notice he is slightly sweaty – forehead and upper lip. He sits right in front of me and says he wants to taste me.
I am startled ? and say "I beg your pardon" I uncross my legs and look him direct in his eyes and say "I am here to talk about introducing your clients to our investments" and he says "I'm sorry I can't help it" and opens up my blouse and strokes my prominent nipples. I push his hands off and he apologised profusely.

I told him to never ever do that again. Little did he know just how sensitive my nipples are and the rush almost makes me want to take my bra off to let my breasts fall into his hands and feed his eager mouth. Though I have control and we both quickly dismiss what happened. We continue our business discussion for a short period and finish off by discussing and finalising our joint contract. He says he will send me a signed copy of the contract in the post and we arrange to meet again.

I was in shock when I leave and need to take a walk. Did that actually happen? It was wrong but part of me likes it? Huh? What??? Never had this ever happened before. Never had anyone touched me in a business meeting. Looked and stared but never touched. It was so wrong. So unprofessional. I did not even desire him. Though I could not comprehend why this was a turn on.
I love being suckled and sucked for as long as I could remember and I knew he wanted to suck me. This was not about business now. I just wanted him to suck and suckle.

Next meeting I went purposely without a bra.
I wore a big coat and enjoyed taking it off when I was in his office. His eyes fixated on my breasts. After all the formalities, he simply looked at my breasts and held up his hands and asked "please may I?"
I nod and he pulled up my stretchy top and my large breasts fell out and he started touching and kissing them so hurriedly, pausing at times to simply hold them up and look at them. He then began sucking my nipples. My head rolled back. It felt electric. I was becoming moist as he sucked and played with them for some time.

I knew I needed to move before it turned into sex. I stood up and he went at my breasts sucking deeply and alternating on my nipples. The suckling sounds were erotic and I gently say to him that I wish I had milk to feed him. He goes to unzip his trousers and I stop him and tell him "no no it's all about my breasts..keep sucking" …by now I am moaning trying to be as discreet. His phone rings and he stops…his face and shirt was all wet and sweaty and I smile as he takes the call. I simply put my top and coat on and leave. Waving goodbye.

Soon after that one-off experience I meet my long term ABF partner and though the IFA offered me gifts/flowers at my office in pursuit to suck again, I never do and enjoy the journey with my new partner taking my desires to new heights.
Comments & questions on this article can be left in the FORUM and I will reply here on my blog. Thanks for reading! ?
– – – – – – – – – –